The colourful Annual-Premium-Account
Created: Wed, 18 Oct 2017 08:38:00 GMT
Hello managers,
the colourful Annual-Premium-Account is back. Starting now a special offer is waiting in the premium shop. Every manager that purchases as 365-day premium account, receives a "colourful bouquet of Booster packs". You will receive a Talent Pack, a Youth Pack, a Trainings Pack, a Player Pack, an Energy Pack, a Promo Pack, and a mysterious Black Pack.
This means that on top of the one-year premium you will receive seven special booster packs.
As always you save 15% GU STARS when you purchase a 365 day premium account as compared to purchasing 30-day premium accounts separately.
What does a Premium Account do for you?
7 day training plan
50% shorter construction and repair time in the stadium complex
Advanced statistics
Individual team logo
And much more…
The promotion will be active until October 22nd (23:59 UTC). We hope you enjoy your 365-day premium account and your "colourful bouquet of Booster Packs".
Your goalunited team

IL GIOCO
goalunited LEGENDS è un simulatore manageriale di calcio. È superiore agli altri giochi online di gestione manageriale di calcio, grazie alla sua profondità di gioco unica fornisce un divertimento duraturo ai giocatori.
Realizza il tuo sogno, diventa la persona più importante per la tua squadra di calcio e domina il campionato.
Entra nel doppio ruolo di manager e allenatore e diventa il più potente boss dei club.
Potrai raggiungere la cima della classifica solo se diventerai uno scaltro stratega tattico dentro e fuori dal campo.

Splendidi calcoli delle partite incontrano un'enorme profondità di gioco.
Nel cuore di goalunited LEGENDS potrai trovare un esteso e complesso sistema di calcolo delle partite, che fornisce un realismo assoluto e la giusta quantità di competizione tra gli appassionati del Campionato di Serie A. Questo gioco poliedrico ti permette di entrare nel ruolo di manager e guidare la tua squadra alla fortuna:
Sviluppa il tuo stadio in una grande arena, guadagna attraverso gli sponsor e aggiungi nuovi membri al tuo staff, tutta la responsabilità è nelle tue mani. Allena i migliori attaccanti e difensori del futuro – i giovani talenti sono estremamente importanti. Risparmia denaro, ma a volte dovresti controllare il calciomercato in tempo reale. È l'unico modo per poter trovare velocemente un sostituto per un giocatore infortunato in allenamento. Per poter aiutare un giocatore a guarire rapidamente dovrai anche assumere un medico di prima classe. Come manager e allenatore tutto questo dipende da te.
Forse le possibilità di segnare goal potrebbero aumentare dopo aver acquistato un nuovo giocatore per la tua squadra? Tieni sempre a mentre che gli altri allenatori della community non sono mai stanchi e approfittano del calciomercato: goalunited LEGENDS è molto più che semplice calcio.

Il futuro a colpo d'occhio
Le aspettative dei tuoi fan fedeli aumentano con i tuoi successi. Sarai quindi in grado di soddisfarli con un negozio per tifosi più grande, o forse un moderno ristorante fast food? Che ne dici di un parcheggio o una stazione ferroviaria vicina allo stadio? E per quanto riguarda gli sponsor e le loro esigenze? Ci vuole un occhio esperto per tutti questi dettagli, i migliori consigli e trucchi nel calcio e le tattiche intelligenti possono farti avere una possibilità con la concorrenza della community globale – un'emozione per qualsiasi giocatore!
Entra nel doppio ruolo di manager e allenatore
Diventa una leggenda della storia del calcio coordinando il programma di allenamento dei giocatori con gli obiettivi della stagione. Come dice il proverbio, il prossimo avversario è sempre il più difficile; è necessario mantenere una panoramica costante della concorrenza e regolare di conseguenza la tua squadra. Analizza l'ultimo rapporto sulla partita e prendi in considerazione la forma dei tuoi giocatori in modo da poter elaborare la giusta strategia per la prossima partita.
Sei pronto a diventare una leggenda in goalunited LEGENDS?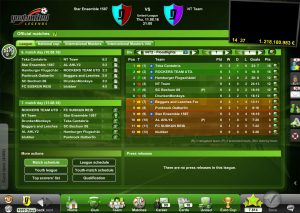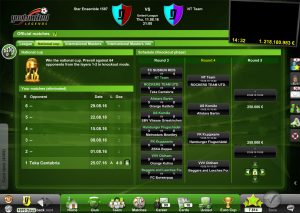 Gli sviluppatori di northworks Software GmbH ad Amburgo hanno lavorato con passione sul titolo fin dall'inizio della serie goalunited fin dal 2006. Il loro obiettivo è quello di fornire a tutti gli appassionati di calcio una sfida realistica con una profondità coinvolgente. Oltre ai riconoscimenti, goalunited ha vinto il Premio Sviluppatore Tedesco nel 2009 e il Premio Gioco per Computer Tedesco nel 2011.