Wyzwanie The Way of Ball
Created: Tue, 31 Mar 2020 12:32:00 GMT
Witajcie Menadżerowie,
W tym trudnym momencie, w jakim dzisiaj jesteśmy, wszyscy potrzebujemy chwili relaksu.
Dlatego przygotowaliśmy już kilka wydarzeń, a jednym z nich jest "The Way of Ball"!
W zabawie "The Way of Ball" grając mecze w rozgrywkach zjednoczonych będziecie zbierać piłki, które potem możecie wymienić na nagrody.
Jak to działa?
Od dziś możecie zbierać piłki wydarzenia "The Way of Ball" poprzez:
- Uczestnictwo w rozgrywkach zjednoczonych
- Wygrywając mecze w rozgrywkach zjednoczonych
- Remisując mecze w rozgrywkach zjednoczonych
- Uczestnicząc w meczach finałowych (tylko przegrani finaliści)
- Wygrywając finały
- Oglądając filmy
Za każde z tych działań otrzymacie piłki na swoje konta.
Piłki można zdobywać tylko w rozgrywkach United organizowanych przez goalunited FA. Nie możecie zdobywać piłek w rozgrywkach United utworzonych przez graczy lub w meczach United 1 na 1.
Aby odebrać główną nagrodę musicie przejść w pełni wszystkie trzy ścieżki w drzewku kolekcji.
Nagrodą główną jest budynek dekoracyjny "The circle of community", który po wybudowaniu co tydzień będzie dawał waszej drużynie +2 punkty atmosfery w zespole oraz dodatkowo +10 punktów reputacji.
Po zakończeniu wydarzenia gracze z TOP 100 z największą liczbą zebranych piłek otrzymają dodatkowe nagrody.
Zabawa potrwa 07.04. (23:59h UTC).
Wszystkie zebrane piłki należy wymienić na nagrody do 08.04. (23:59h UTC).
Uwaga: Jeśli macie więcej niż jeden klub, piłki są zbierane osobno dla każdego z nich.
Wasz goalunited team

GRA
goalunited LEGENDS jest symulatorem menadżera piłkarskiego. O kilka klas przebija inne menadżery piłkarskie online, przez swoją wyjątkową głębię gry zapewnia nieustającą rozrywkę dla graczy.
Spełnij swoje marzenia, zostań najważniejszą osobą we własnym klubie piłkarskim i zdominuj ligę.
Wejdź w połączoną rolę menadżera piłkarskiego i trenera i zostań szefem potężnego klubu.
Tylko będąc przebiegłym taktykiem zarówno na boisku, jak i poza nim, zdołasz dotrzeć na szczyt ligi.

Inteligentna kalkulacja meczów wykorzystuje ogromną głębię gry
Obszerny i złożony system kalkulacji meczu jest sercem goalunited LEGEND, zapewnia absolutny realizm i właściwą dawkę rywalizacji pomiędzy fanami Ekstraklasy. Ta różnorodna gra pozwala wejść w rolę menadżera i doprowadzić własny klub do bogactwa:
Od rozbudowy zwykłego boiska do areny wielkiej rangi, poprzez zdobywanie sponsorów i nowych pracowników, cala ta odpowiedzialność spoczywa na Twoich barkach. Będziesz trenować topowych strzelców i bijących rekordy zawodników przyszłości – to dlatego młode talenty są też niezwykle ważne. Juniorzy pozwalają również zaoszczędzić pieniądze, ale czasami dobrze jest sprawdzić działający w czasie rzeczywistym rynek transferowy. To jedyny sposób, aby szybko znaleźć zmienników dla kluczowych graczy kontuzjowanych w trakcie treningu. Aby pomóc zawodnikom w szybszym powrocie do zdrowia, musisz oczywiście zatrudnić lekarza. A ponieważ to Ty jesteś menadżerem i trenerem, wszytko to leży w Twojej gestii.
A może szanse na zdobycie gola wzrosną po zakupie nowego zawodnika do Twojej drużyny? Zawsze pamiętaj o tym, że pozostali trenerzy w społeczności nigdy nie próżnują i również czerpią z korzyści jakie daje rynek transferowy: goalunited LEGENDS to więcej niż tylko piłka nożna.

Przegląd opcji
Oczekiwania fanów rosną wraz z sukcesami.Czy wystarczy im większy sklep kibica, a może zamiast tego nowoczesna restauracja? A co z parkingiem czy stacją kolejową w pobliżu stadionu? Co ze sponsorami i ich wymaganiami? Trzeba mieć oko na wszystkie te detale, znać najlepsze futbolowe triki oraz sprytne taktyki, aby mieć szanse wśród twardej konkurencji pochodzącej z ogólnoświatowej społeczności – prawdziwy dreszcz emocji dla każdego gracza!
Wejdź w połączoną rolę menadżera piłkarskiego i trenera
Stań się legendą historii piłki nożnej dostosowując program treningowy zawodników do swoich celów sezonowych. Jak to mawiają, kolejny przeciwnik jest zawsze trudniejszy; trzeba będzie stale nadzorować konkurencję i odpowiednio rotować składem. Przeanalizuj raport z ostatniego meczu i kontroluj formę dnia zawodników, aby opracować właściwą strategię na kolejny mecz.
Jesteś gotów, aby stać się legendą w goalunited LEGENDS?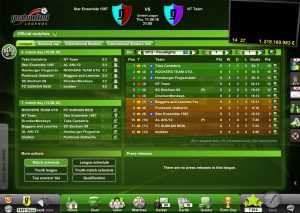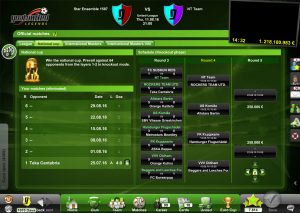 Programiści northworks Software GmbH z Hamburga pracowali z pasją nad tym tytułem od początku serii goalunited w roku 2006. Ich celem jest dostarczenie wszystkim fanom realistycznego wyzwania z wciągającą głębią. Obok wielu wyróżnień, goalunited przyznano Nagrodę Niemieckich Programistów w roku 2009, jak również Nagrodę Niemieckich Gier Komputerowych w roku 2011.