The way of ball verzamel challenge
Created: Tue, 31 Mar 2020 12:32:00 GMT
Beste managers,
In een moeilijke tijd zoals de dag van vandaag, hebben we allemaal iets nodig om even te ontspannen.
Hiervoor hebben we al verschillende evenementen voorbereid, waaronder "The Way of Ball" collect challenge!
In de challenge "The Way of Ball" verzamel je ballen door wedstrijden te spelen in united evenementen die je vervolgens kunt inwisselen voor beloningen in de verzamelboom.
Hoe werkt dit?
Vanaf vandaag kun je ballen verzamelen voor het evenement "The Way of Ball" door het volgende te doen:
-Deelnemen aan united evenementen
-Het winnen van de united wedstrijd
- Gelijkspel in een united wedstrijd
- Deelnemen aan de finale (alleen verliezende finalist)
- De finale winnen
- Video bekijken
Bij elk van de bovenstaande acties worden ballen aan je account toegekend.
Ballen kunnen alleen worden verdiend met speciale evenementen georganiseerd door de goalunited FA. Je kunt geen ballen verdienen met door de gebruiker gemaakte United-evenementen of United 1on1s.
Je moet alle drie de manieren volledig in de verzamelingsboom voltooien om de hoofdbeloning te krijgen.
De belangrijkste beloning is decoratiegebouw "The cirle of community", eenmaal gebouwd geeft dit gebouw je +2 teamspirit punten aan je selectie elke week en +10 reputatiepunten.
Aan het eind van het evenement krijgt de top 100 met de meeste verzamelde ballen extra belongingen.
Het evenement duurt tot en met 07.04. (23:59h UTC). Alle verzamelde ballen kunnen worden gebruikt tot Let op: als je meer dan éen club hebt, ontvang je ballen per club.
Jouw goalunited team

HET SPEL
goalunited LEGENDS is een voetbalmanagersimulator. Het gaat verder dan andere online voetbalmanagerspellen, dankzij de unieke speldiepte dat blijvend plezier geeft aan spelers.
Bereik jouw droom, wordt de meest belangrijke persoon binnen jouw eigen voetbalclub en domineer de divisie.
Stap in jouw gecombineerde rol als manager en coach, en wordt de meest invloedrijke clubbaas.
Je kunt aleen de divisietop bereiken door zowel op als buiten het veld tactisch slim te spelen.

Slimme wedstrijdberekening zorgt voor grote speldiepte
Een uitgebreid en ingewikkeld berekeningssysteem ligt aan de basis van goalunited LEGENDS, het geeft absolute realiteit en de juiste hoeveelheid competitie tussen Eredivisie fans. Dit spel met meerdere facetten geeft je de mogelijkheid de rol van manager op je te nemen en jouw club naar de overwinning te leiden:
Van het ontwikkelen van jouw stadion naar een grote arena, tot het aantrekken van sponsors en nieuwe stafleden, alle verantwoordelijkheid ligt in jouw handen. Je zult de topscoorders en recordbrekende spelers van de toekomst trainen – omdat jong talent uitermate belangrijk is. Het bespaart ook geld, maar soms is het een goed idee om de real-time transfermarkt te bekijken. Dit is de enige manier om snel een vervanger te vinden voor een speler die geblesseerd is geraakt tijdens een training. Om je te helpen de speler snel te laten herstellen moet je natuurlijk een eersteklas dokter inhuren. Als manager en coach, ligt dit allemaal in jouw handen.
Misschien liggen jouw kansen om te scoren nog hoger na de aankoop van een nieuwe speler voor jouw team? Houd altijd in je achterhoofd dat andere coaches binnen de community nooit moe worden en ook hun voordeel op de transfermarkt doen: goalunited LEGENDS is meer dan alleen voetbal.

De toekomst in één oogopslag
De verwachtingen van jouw loyale fans worden hoger met jouw successen. Je kunt ze vanaf dan alleen nog tevreden houden met een grotere fan shop, of misschien een modern fast food restaurant? Wat denk je van een parkeergarage of een treinstation in de buurt van jouw stadion? Wat te denken van sponsors en hun wensen? Er is een scherp oog nodig voor al deze details, de beste tips en trucs in voetbal en slimme tactieken om een kans te maken binnen de harde concurrentie in de wereld community – echte spanning voor elke gamer!
Je stapt in de gecombineerde rol van voetbalmanager en -coach
Word een legende binnen de voetbalgeschiedenis door het trainingsprogramma van jouw spelers conform jouw seizoensdoelen te coördineren. Zoals het gezegde gaat, de volgende tegenstander is altijd het moeilijkst; je hebt een constant overzicht nodig van jouw tegenstanders en zult jouw team waar nodig moeten aanpassen. Analyseer jouw laatste wedstrijdrapport en beoordeel de vorm van jouw spelers per dag zodat je de juiste strategie voor de volgende wedstrijd kunt bedenken.
Ben jij klaar om een legende te worden in goalunited LEGENDS?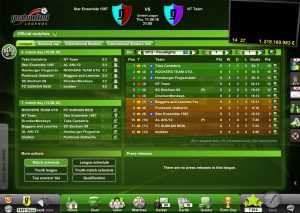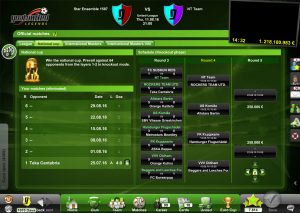 De ontwikkelaars van northworks Software GmbH uit Hamburg hebben met passie gewerkt aan deze titel sinds het begin van de goalunited series in 2006. Hun doel is alle voetbalfans een realistische uitdaging met immense diepte te geven. Naast andere onderscheidingen werd goalunited bekroond met de Duitse Developer's Prijs in 2009, als ook de Duitse Computer Games Prijs in 2011.